What are interactive whiteboards?
There are two very different kinds of interactive whiteboards:
The first is a 'virtual' electronic version of a dry- wipe board on a computer that enables learners in a virtual classroom to view what an instructor, presenter or fellow learner writes or draws. It is also called an electronic whiteboard and can be found in conferencing and data-sharing systems such as Microsoft NetMeeting. The second type is a large physical display panel that can function as an ordinary whiteboard, a projector screen, an electronic copy board or as a computer projector screen on which the computer image can be controlled by touching or writing on the surface of the panel instead of using a mouse or keyboard. This briefing is about the second type of interactive whiteboard. MOLYBoard just belongs to the second type.
Typically, Moly interactive whiteboards are used in lecture or classroom environments and the technology allows you to write or draw on the surface, print off the image, save it to computer or distribute it over a network. You can also project a computer screen image onto the surface of the whiteboard and then either control the application by touching the board directly or by using a special pen. The computer image can be annotated or drawn over and the annotations saved to disc or sent by email to others.
What are the benefits of MOLYBoard?
Because Moly interactive whiteboards are so like conventional whiteboards, they can help even technophobic teachers to use this medium with ease for presentations from the front of the room.
They help in broadening the use of e-learning because they rapidly demonstrate the potential of alternative modes of delivery.
They make it easy for teachers to enhance presentation content by easily integrating a wide range of material into a lesson, such as a picture from the internet, a graph from a spreadsheet or text from a Microsoft Word file, in addition to student and teacher annotations on these objects.
They allow teachers to create easily and rapidly customized learning objects from a range of existing content and to adapt it to the needs of the class in real time.
They allow learners to absorb information more easily.
They allow learners to participate in group discussions by freeing them from note-taking.
They allow learners to work collaboratively around a shared task or work area.
When fully integrated into a VLE (virtual learning environment) and learning object repository there is potential for widespread sharing of resources.
When used for interactive testing of understanding for the entire class, MOLYBoard can rapidly provide learner feedback.
How does the MOLYBoard work?
Fully-functioning Moly interactive whiteboards usually comprise four components: a computer, a projector, appropriate software and the display panel. The computer is connected to the projector and whiteboard. The projector displays the computer screen image onto the board. Action on the surface of the display panel is communicated with the computer over a cable or wireless connection and interpreted via the installed software. Display panels can be either front or back projection. Additional components are available for some systems, including hand- held key pads for gathering individual responses and interactive white board tablets: in effect a small personal version of the larger board.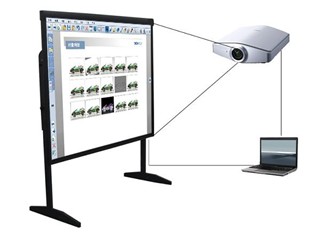 How might the MOLYBoard affect further and higher education in the developed countries?
Moly Interactive whiteboards create a range of learning opportunities for both students and teachers. Studies have found them to be highly motivating and learner-centered when integrated innovatively. They offer a powerful facility for integrating media elements into teaching to enhance content and support collaborative learning. The drawback is that they may not be used to their full potential, serving in many cases as little more than a glorified whiteboard. This may change as users become more familiar with them and are more readily available.
They are ideal for small group, collaborative work, where several people can cluster around the board and interact with it as they develop ideas, work with an application or deconstruct an image. However in larger groups there may be problems associated with height and positioning. To be used interactively, the board has to be low enough for all parts of it to be within reach. This often means that it must be positioned so low that users in the back of a room without ranked seating cannot see the whole board. Some boards have portable pads that can be used as remote controls to overcome this problem, but this adds to the cost.
Other solutions to the line-of-sight difficulty are MOLY Tablet PCs connected to a data projector aimed at a conventional whiteboard or screen, interactive white board tablets, Moly wireless graphics pads or wireless keyboards. These devices allow the board to be positioned high enough to be viewed by all users and the device to be passed around to users. These options are generally cheaper than an interactive whiteboard and offer greater flexibility of use. The disadvantage is that having to take turns at using the device inhibits the spontaneity of group working. It is possible to overcome this by using more than one device, but this would increase costs significantly.
On balance we believe that Moly interactive whiteboards, where the user interacts directly with the surface, are a technology worth investing in now, wherever the investment costs can be justified for small group working. On their own, they are not such a good investment for working with large groups because of the limited opportunities for interaction within large groups. However, they can be supplemented with a range of hand-held devices which extend their usability in large groups. It seems likely that they will have a significant role to play in further education colleges, where they are already well established. Market penetration in higher education is lower and may be overtaken by lower cost and more flexible alternatives or both. An exception to this is in the area of teacher training where interactive whiteboards are already well established because of their high use in schools (for example all schools in UK have been funded to provide at least one interactive whiteboard). Cheaper interactive systems are data projector or whiteboard combinations, which use Moly Tablet PCs, Moly wireless graphics tablets or wireless keyboards as remote interface devices.