MOLYBoard interactive whiteboard for preschool education use
MOLYBoard interactive whiteboard for preschool education use is a specialized digital interactive product which is customized according to these characteristics and requirements of preschool education, which is fit for kindergarten, preschool training organization and so on.
The interactive whiteboard adopts the new patented technology, with fashionable appearance and ultrathin panel design, the board adopts high strength, low reflection and eco-friendly alloy material which is durable, you can write with a pen or your finger; meanwhile, it owns a lot of humanization design functions, it's very quick and easy when the user operates, highlights its overall interactive operation performance, with ultra short focus projector, provide an interactive teaching class and effectively avoid the visual stimulation from the LCD screen, so that can protect children's eyes.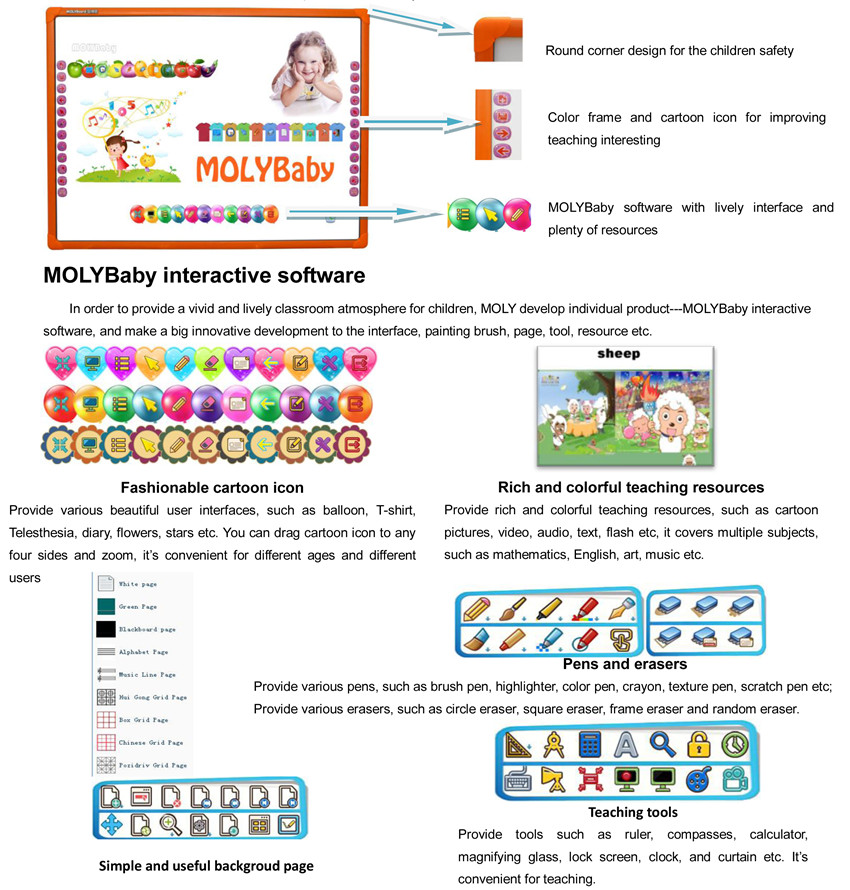 Pen, fingers, teaching

pointer

or any other opaque object

High strength、low reflection hard coated eco-friendly composite material, anti-glare, anti-dazzling, wear-resistant; Support marker writing and standard cleaner.

Minimum diameter of writing

USB power supply, less than 1W

16 shortcut keys on each side of board

Standard HID equipment,driver-free,support Win7、Win8、Win10

With single touch, it can achieve the function of writing

With dual touch, it can achieve the following functions, such as move current page to anywhere, page up and page down, rotate, zoom in and zoom out.

With your palm, it can achieve the function of an eraser

Wall-mounted bracket or mobile stand(optional)

Short focus floor mobile stand

Size error: ±3mm, Weight error: ±1kg. The shape and standard are subject to change without notice.